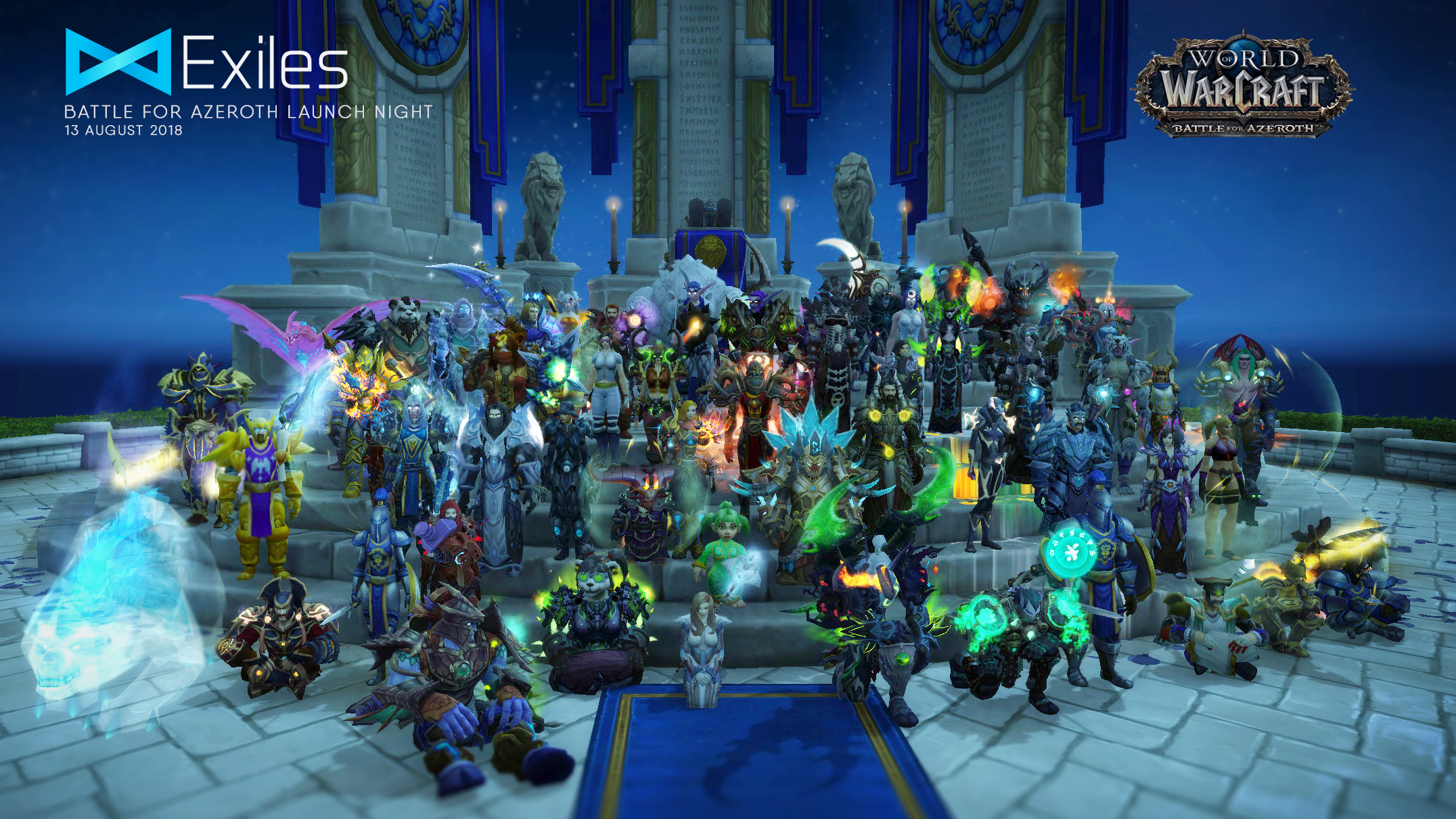 We took a special guild launch night screenshot, approximately 2 hours before launch.
Excitement always runs high on launch night doesn't it?
See if you guys can spot Matt, who although not present for the actual screenshot (because he dared to do something called 'IRL football'…whatever that is), he did make an obliging solo screenshot at the same location about an hour after us, and I've photoshopped him in.
The focus right now for the guild – is on gearing, and thus far, we are the no.1 guild on Emerald Dream-Terenas for ilvl so keep up the good work everyone!
Due to this, I'm keeping the video footage we shot on launch night to one side, and I really want to give it my full attention, once all the raid preparation is done.
Guild Bank Donations Welcomed
We are in need of the following items for the guild bank, so that we can prepare feasts, flasks etc
Flasks for all
In order to create the Mystical Cauldron we need the following: (4 of each at Rank 2, 3 of each at Rank 3):
Hydrocore (Soulbound – obtained from Mythic Dungeons)
These last two items are soulbound, so whoever crafts the cauldron will be donating these. At this stage it will probably be either myself (Artenesse) or Mortemis – but if anyone else gets rank 3 before us, please let me know so that we can craft and hopefully benefit from some extra procs.
Raid Feast Needs:
Remember, the Midnight Salmon can be caught in any zone, at ANY time of day (caught one at 10am yesterday).
This is the new 'bacon' ingredient, which severely limits our ability to create feasts, and we rely solely on the generosity of our members to chuck a line in some water and send us their haul.  Fire up Netflix or something and do some fishing eh? Please and thank you in advance.
Your Launch Night Experience
Tell me about your launch night experience in the comments! I'd love to hear from you!
How was it? Exciting? Great? Smooth? Bad? Horrible? All your characters were stuck?
How are you finding BFA so far?